The Ford commercial lineup has included some of the hardest workers on jobsites across the country for a long, long time – and that legacy isn't changing anytime soon thanks to the new 2020 Ford Transit lineup. With a new trim level, a comprehensive suite of advanced new work-ready and adventure-ready features, and a trio of next generation engine options that pair perfectly with a slew of next generation powertrain features, the 2020 Transit lineup has it all. But instead of focusing on everything here, we're going to take a more in-depth look at that trio of 2020 Ford Transit engine options we mentioned while also checking in on those aforementioned next generation powertrain features.
[ LEARN MORE ABOUT THE 2020 FORD TRANSIT LINEUP IN OUR BRANDON FORD BLOG ]
Checking Out the Engine Options of the 2020 Ford Transit Lineup at Brandon Ford in Tampa FL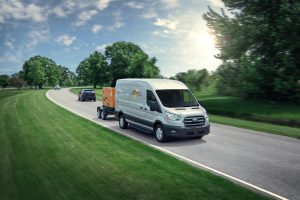 As we explained over the course of our introduction, the new Ford Transit lineup at Brandon Ford in Tampa, FL, features a trio of engines to choose from. First up is the reliable 3.5-liter Port Fuel and Direct Injection V6 engine, which comes standard on most 2020 Transit models. If you need some more power, you'll want to go with the available 3.5-liter EcoBoost V6 engine. And if you want a diesel engine, then you'll want to choose the lineup's newest engine option – a direct-injected 2.0-liter I-4 EcoBlue bi-turbo diesel engine.
What Other Powertrain Features and Capabilities are Offered by the 2020 Ford Transit Lineup at Brandon Ford in Tampa FL?




Some of the other impressive powertrain features for the 2020 Ford Transit lineup are included no matter which engine you choose. This list includes a new 10-speed automatic transmission, which enhances your ride with smooth and seamless shifting. Other powertrain features – like next generation Auto Start-Stop capabilities – are only featured on 2020 Transit models with one of the available engines.
For more on the 2020 Ford Transit lineup and all of our other new Ford models, please contact our staff here at Brandon Ford in Tampa, FL.