The 2022 Ford F-150 Lightning battery capacity is formidable and has caused a recent buzz in the market. The chunky electric pickup truck offers two battery sizes – a standard-range battery and an extended-range battery (which delivers more driving range). Explore the battery specifications for the 2022 Ford F-150 Lightning at Brandon Ford, Tampa, FL.
2022 Ford-150 Lightning Battery Range and Capacity
The 2022 Ford-150 Lightning standard range battery will deliver a driving range of 230 miles with a 98 kWh usable capacity (based on Ford's estimations). The F-150 Lighting's extended range battery pushes the boundary and can pull a driving range of 300 miles with a massive 131 kWh usable capacity. These figures are Ford's approximations with official EPA ratings expected to arrive soon.
How does the 2022 Ford F-150 Lightning compare to other electric vehicles?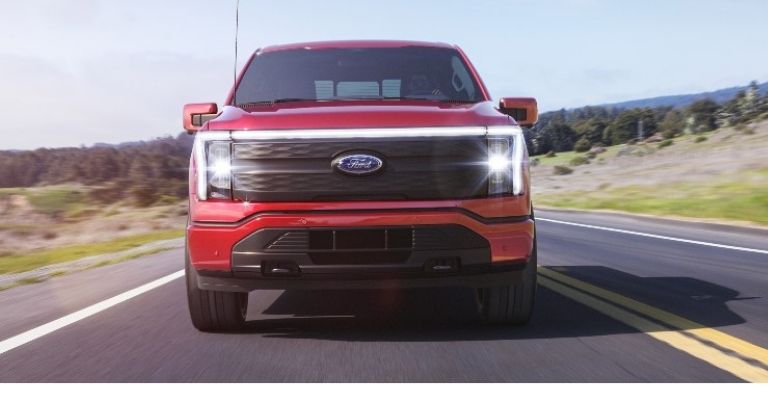 2022 Ford F-150 Lightning On The Road
The 2022 Ford F-150 Lightning electric pickup truck has an impressive usable battery of 98 kWh compared to the Tesla's Model S sedan. The GMC's new Hummer EV also delivers 200 kWh (although it weighs a massive 9,000 pounds and delivers a driving range of 329 miles). The Ford also provides an optimal driving range that falls between the above two.
By comparison, the Rivian's R1T pickup allows a 135-kWh battery that delivers 314 miles of range (EPA rated). It's easy to see that Ford is right on the money with 230 miles and 98 kWh usable capacity (non-EPA rated). One can expect that actual EPA figures will be higher as Ford F-150 Lightning has an impressive 1000-pound payload.
[Learn More: Is Ford 2022 F-150 Lightning a good work truck?]
When does the 2022 Ford F-150 Lightning arrive?




The new Ford F-150 Lightning will arrive early next year, with reservations opening from January 2022. The pricing is likely to start at around $42,000.
Remember that Ford Motor's F-series pretty much sells itself as it has consistently been named the best-selling vehicle in America for 40 years and the industry's top-selling truck for 45 years. To get your hands on the much-awaited ride, you will have to jump a line of 200,000 people, so good luck and try to get there first! Speak to our Trade Advisor for Car Loans.
[Learn More: Explore All-Electirc 2022 F-150 Lightning]